May 12th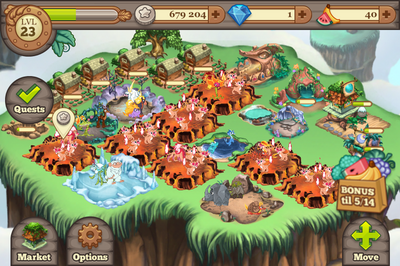 Ehm. Level 23!
Got a mythic Earthquake monster! It didn't empty my orb.
Cut down another big tree and building another Large Farm.
Special habitat is ready.
Trying to breed Inferno.
Pond and Frost are sleeping. Saving for cutting the last big tree.
May 11th
I quit playing. The game is just too slow and annoying, and the developers too greedy. I'll miss you guys.
May 10th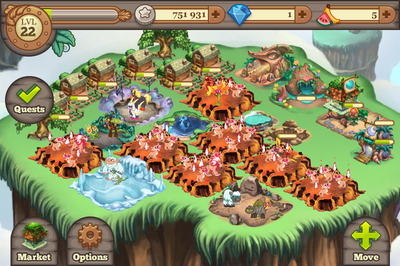 Level 22!
The bird is sleeping.
Bought the Special habitat.
The Frozenflame attempt failed, it became the Silk monster. But I didn't have that one so it's nice. It's sleeping now.
Breeding Electric + Earth, I don't have any such hybrids.
Saving money for cutting the second big tree.
May 9th
Level 21!
Hatched the Air Monster.
Water + Plant became the Pond monster.
Trying to breed Frozenflame.
Cutting down my first big tree.
All farms are upgraded and operational.
Saving money for the Special habitat.
May 8th
Level 20!
Waithing for the Air egg to hatch.
Breeding Water and Plant - hoping for Bayou.
Saving money for cutting a big tree.
Half of my farms are upgrading.
Ad blocker interference detected!
Wikia is a free-to-use site that makes money from advertising. We have a modified experience for viewers using ad blockers

Wikia is not accessible if you've made further modifications. Remove the custom ad blocker rule(s) and the page will load as expected.