Festival of Elements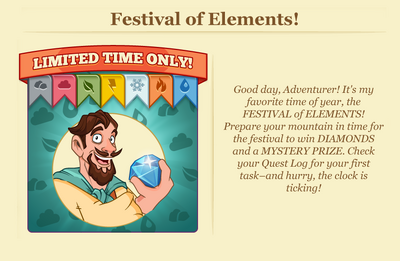 Added On
October 5, 2012
Finishes On
October 10, 2012
Challenge Information
Mystery Prize
The mystery prize may be different for each user then the ones pictured above.
Please note that the Mystery Prize(s) MUST be redeemed by October 10, 2012.
Notes
The Festival of Elements challenge was added on October 5, 2012.
Ad blocker interference detected!
Wikia is a free-to-use site that makes money from advertising. We have a modified experience for viewers using ad blockers

Wikia is not accessible if you've made further modifications. Remove the custom ad blocker rule(s) and the page will load as expected.