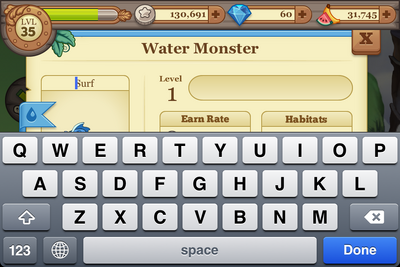 With Update 1.6.0, you can now rename your monsters!
To edit your monster's name, simply open the "Feed Screen", tap on its current name directly above its picture, and type in your custom name using your device's keyboard.
Emoticons, or "Emojis", cannot be included in your monster's name.
Your custom name cannot exceed 13 characters.
If your monster's new name becomes too long, only a few of the letters will show, followed by ellipses (...).
Not all of your monsters' names will change in your Monsterpedia right away, but should change over time.
You cannot custom-name Mythic Monsters. - Fixed with Update 1.7.0
On December 28, 2012, as part of Update 2.0.1, this feature was enabled for Android users.
Monster Names in Different Languages
French Name
German Name
Spanish Name
Portuguese Name
Korean Name
English Name
Monsterpedia
Air
Luft
Aéreo
Ar
공기
Air
Ancienair
Luftspross
Legadoaéreo
Legadoar
공기의 유산
Airlegacy
Aqualumineux
Wasserstrahl
Ángeliluminado
Peixelux
아쿠아레이
Aquaray
Aquavoile
Wassersegel
Pulpojuguetón
Véu Aquático
아쿠아베일
Aquaveil
Aurore
Aurora
Aurora
Luzilino
오로라
Aurora
Automne
Herbst
Autumn
Bayou
Bayou
Cocodelpantano
Pântaré
바이유
Bayou
Sanctiflamme
Balg
Hallowrila
Urrante
벨로우즈
Bellows
Noirglace
Glatteis
Cangrejohelado
Gelo Negro
빙판
Blackice
Epanouie
Bloom
Bourgeonnant
Blütenpracht
Florecer
Florescência
Blossom
Fleur
Tausendschön
Margarita
Margarida
데이지
Blushbug
Flèchéclair
Pfeil
Avestrurayo
Fogostruz
볼트
Bolt
Boréal
Nordwind
Boreal
Nordlys
보리얼
Boreal
Sulfure
Feuerstein
Gárgola
Estatúlio
브림스톤
Brimstone
Mantafeu
Käfer
Bicho
Bicho-Brasa
벌레
Bug
Poulpifeu
Berster
Pulpofuego
Octochama
버스트
Burst
Bourdonnant
Summer
Zumbador
Abelhudo
버지
Buzzy
Cendré
Aschenregen
Armadillodefuego
Brasaruc
신더
Cinder
Clover
Clover
Ombréclair
Dunkelblitz
Cangurosombrío
Saltalino
다크볼트
Darkbolt
Sombrécaille
Dunkelschuppen
Oscuribajo
Pedresombra
다크스케일
Darkscale
Aranéide noir
Dark Silk
Dawn
Dawn
Dawnfang
Dawnfang
Dawnhorn
Dawnhorn
Dawnlegacy
Dawnlegacy
Devotion
Devotion
Sombrépine
Düsterstachel
Aracnipúas
Turvo-espinho
딤스파이크
Dimspike
Crépuscule
Dämmerung
Dusk
Crocpuscule
Schattenzahn
Duskfang
Sombrecorne
Dunkelhorn
Duskhorn
Anciencrépuscule
Dusklegacy
Terre
Erd
Tierra
Terra
땅
Earth
Ancienterre
Erdspross
Legadotierra
Legadoterra
땅의 유산
Earthlegacy
Pachyflash
Erdstoß
Terremoto
Elemoto
지진
Earthquake
Éclipse
Finsternis
Eclipse
Eclipse
Eclipse
Arbrétrange
Gruselwald
Árbolfantasmal
Madeira Sombria
에리우드
Eeriewood
Ancien
Ältesten
Monstruo de los Ancianos
Ancião
Elder
Ancien Élémentaire de Terre
Ältesten-Erd
Tierra de los Ancianos
Mestre da Terra
Elder Earth
Ancien Élémentaire Végétal
Ältesten-Pflanzen
Planta de los Ancianos
Mestre das Plantas
Elder Fire
Ancien Élémentaire de Glace
Ältesten-Eis
Elder Ice
Ancien Élémentaire de Feu
Ältesten-Feuer
Fuego de los Ancianos
Mestre do Fogo
Elder Plant
Electricité
Elektrizitäts
Eléctrico
Elétrico
전기
Electric
Ancienélectricité
Elektrizitätsspross
Legadoeléctico
Legadoelétrico
전기의 유산
Electriclegacy
Charbombre
Kohlenschatten
Largatijamoteada
Lagachama
엠버셰이드
Embershade
Énigme
Enigma
Enigma
Mitomonstro
Enigma
Boréal Éthéré
Flüchtiger Nordwind
Boreal Etéreo
Nordlys-celeste
Ethereal Boreal
Verdoyant
Immergrün
Evergreen
Feu
Feuer
Fuego
Fogo
불
Fire
Ancienfeu
Feuerspross
Legadofuego
Legadofogo
불의 유산
Firelegacy
Feudartifice
Feuerwerk
Pirotécnico
Pirofogos
Firework
Soufflamme
Flammenstoß
Aguilaenllamas
Pé-de-Chama
플레임거스트
Flamegust
Foudrefeu
Fackel
Fuegoequino
Eletroton
플레어
Flare
Flash
Blitz
Orejudoeléctrico
Flash
플래시
Flash
Geltonnerre
Blitzeis
Lanudoescarchado
Relampegelo
플래시프리즈
Flashfreeze
Etincelle
Flacker
Destellante
Cintilante
플리커
Flicker
Grainsecte
Flatterer
Bichínvolador
Voador
플리터
Flitter
Fleuron
Floret
Floral
Blumenblüte
Flor
Flora-Flori
꽃
Flower
Flocon
Wirbel
Dodonevado
Falcogelo
플러리
Flurry
Glacé
Schauder
Pinguhelado
Geliberto
프리즈
Freeze
Givré
Frost
Búfaloescarcha
Gélico
프로스트
Frost
Gelicorne
Froststrahl
Escarchicornio
Gelacheiro
프로스트빔
Frostbeam
Braisegivre
Aschefrost
Cerberohielo
Gelicanis
프로스트엠버
Frostember
Givrembrase
Frostflamme
Ráfagaescarchada
Chamagélido
프로즌블레이즈
Frozenblaze
Givreflamme
Eisflamme
Llamahelada
Flamegélido
프로즌플레임
Frozenflame
Cadeau
Geschenk
Obsequio
Presente
선물
Gift
Allégresse
Freudentanz
Regocijo
Monstrolã
Glee
Zombifié
Düsternis
Gorilazombie
Melancomonstro
어둠
Gloom
Cornedor
Goldhorn
Cuernodorado
Chifre Dourado
골든혼
Goldenhorn
Pierredor
Goldstein
Bueydorado
Rochouro
골드스톤
Goldstone
Gratitude
Dankbarkeits
Agradecimiento
Gratidão
그림프리즈
Gratitude
Sinistrouille
Grabblatt
Gorilabaza
Escavafolha
그레이브리프
Graveleaf
Sinistonnerre
Grimmblitz
Gatorelámpago
Calicattus
그림볼트
Grimbolt
Tristegel
Grimmschauder
Vamphielo
Medogélico
그림프리즈
Grimfreeze
Sanctifié
Halloween
Halloween
Bruxo
할로윈
Hallows
Moissoneur
Ernte
Harvest
Houx
Winterbeeren
Acebo
Azevinho
성지
Holly
Hoppy
Hoppy
Glace
Eis
Hielo
Gelo
얼음
Ice
Glacéclat
Eisflacker
Llamaradahelada
Labagelo
아이스플레어
Iceflare
Banquisier
Eisscholle
Pezhielo
Banquisa
아이스플로에
Icefloe
Ancienglace
Eisspross
Legadohielo
Legadogelo
얼음의 유산
Icelegacy
Indépendance
Freiläufer
Independiente
Avelivre
얼음의 유산
Independence
Inferno
Inferno
Loritodefuego
Ardeavis
인페르노
Inferno
Félicité
Wonne
Alegría
Ovolegre
Joy
Jubilé
Jubel
Júbilo
Jubilebre
Jubilee
Lanterno
Laternen
Lantern
Légendaire
Mythos
Legendario
Lendacádio
전설의
Legendary
Lumière
Licht
Luminoso
Luz
빛
Light
Lumicorne
Lichthorn
Uniluminoso
Lumicórnio
라이트혼
Lighthorn
Ancienlumière
Lichtspross
Legadoluminoso
Legadoluz
빛의 유산
Lightlegacy
Lumineux
Lichtschwall
Estrelladeluz
Lumionda
라이트스웰
Lightswell
Luminaile
Lichtschwingen
Alasáureas
Asalumini
빛의 날개
Lightwing
Amour
Liebe
Love
Monstro do Amor
Love
Chanceux
Glück
Buena Suerte
Sorte
Luck
Luxuriant
Grünblatt
Del Paraiso
Folha Viçosa
러쉬잎
Lushleaf
Lumifoudre
Lüster
Pelucheléctrico
Eletro-brilho
러스터
Luster
Marine
Marine
Marine
Marine
Marine
Magma
Magma
Magma
Scorpiomagma
마그마
Magma
Mémorial
Gedenk
Monumental
Memomagno
기념비
Memorial
Mythique Joyeux
Weihnacht
Mítico Felicidad
Mítico Natalino
명랑
Merry
Tortumont
Gipfelquellen
Montaña
Manumonte
산
Mountain
Dragorigine
Ursprung
Origin
Fantôme
Phantom
Fantasma
Fantasma
Phantom
Végétal
Pflanze
Planta
Plantas
식물
Plant
Ancienvégétal
Pflanzenspross
Legadoplanta
Legadovegetal
식물의 유산
Plantlegacy
Pollen
Pollen
Polen
Apólen
폴른
Pollen
Efflorescent
Weiherwind
Estanque
Lagolívio
연못
Pond
Frimeuse
Posy
Bouffi
Atem
Globo
Balão
퍼프
Puff
Renouveau
Neuwerdungsmonster
Renovación
Monstro da Renovação
Renewal
Fluvial
Wasserfluss
Nutriabereña
Anfábio
강
River
Côtier
Seeklippe
Acantimarino
Rocha Marinha
시클리프
Seacliff
Sombraileron
Schattenflossen
Oscuripez
Barbatreva
셰이드핀
Shadefin
Ombre
Schatten
Sombrío
Sombra
그림자
Shadow
Ancienombre
Schattenspross
Legadosombrío
Legadosombra
그림자의 유산
Shadowlegacy
Cornedombre
Schattenross
Yeguaoscura
Égua Sombria
셰도우메어
Shadowmare
Ondechoc
Schockwelle
Caballitoeléctrico
Ondulachoque
쇼크웨이브
Shockwave
Aranéide
Seidenmatt
Aracnihieloplanta
Seda
실크
Silk
Neigepic
Schneeklipp
Osonevado
Ursolar
스노우블러프
Snowbluff
Snowstorm
Snowstorm
Ailusion
Steiger
Pavorreal
Pavoos
소어
Soar
Fourmifeu
Sonnenfackel
Hormigaenllamas
Reflesol
태양불꽃
Solarflare
Solstice d'été
Sonnenwende
Solsticio
Solstício
Solstice
Sonar
Sonar
Sonar
Sonar
소나
Sonar
Lièvréclat
Funke
Liebrechispuda
Eletro-Lebre
스파크
Spark
Special Elder
Special Elder
Special Luck
Special Luck
Sulfure Obscur
Schatten-Feuerstein
Gárgola Sombra
Estatúlio-sombrio
Spectral Brimstone
Fulminant
Feuerkopf
Escupefuego
Pentafogo
스핏파이어
Spitfire
Végétincelle
Zündfunke
Esporachispuda
Flora-flama
스포어스파크
Sporespark
Résolu
Felsenfest
Constancia
Leal
Steadfast
Tonerre
Brecher
Serpieléctrica
Serpente
스트라이크
Strike
Solaire
Sonnenstrahl
Leónsolar
Leosol
태양
Sun
Picsoleil
Sonnenstachel
Espinisol
Cactosol
선스파이크
Sunspike
Rocsolaire
Sonnenstein
Piedrote
Petersol
선스톤
Sunstone
Foudranguille
Wellenmacher
Pezaltatensión
Eletromiro
서지
Surge
Foudrailé
Schiebewind
Colaenllamas
Eletrolâmio
테일윈드
Tailwind
Tempête
Orkan
Tempestad
Tempesvoo
템페스트
Tempest
Eclair
Donnerschlag
Trueno
Trovaquato
천둥
Thunder
Tinsel
Tinsel
Tinsel
Cerfeuille
Baum
Árbol
Cloro-Fila
나무
Tree
Toundra
Tundra
Tundra
Tundra
툰드라
Tundra
Vaporeux
Dunst
Mantavaporosa
Vapor
베이퍼
Vapor
Feuillevolt
Voltblatt
Bichoplantaeléctrico
Folha-Volts
볼트잎
Voltleaf
Eau
Wasser
Acuático
Água
물
Water
Ancieneau
Wasserspross
Legadoacuático
Legadoágua
물의 유산
Waterlegacy
Sauvagivre
Wildeis
Heladosilvestre
Selvagélido
와일드프리즈
Wildfreeze
Rochevent
Windstein
Chimpaalado
Ventolino
윈드스톤
Windstone
Sorciailé
Hexenflügel
Wingwitch
Tempête Fantomatique
Geisterorkan
Espectro Tormentoso
Tempesvoo-fantasma
Wraith Windstone
Zéphyr
Zephir
Libeluscarchado
Borbogela
제피르
Zephyr
Socialpedia
Unity de Terre
Erd-Unity
Unity de Tierra
Unity da Terra
Earth Unity
Friendship d'Électricité
Elektrizitäts-Friendship
Friendship Eléctrico
Friendship Elétrico
Electric Friendship
Unity de Feu
Feuer-Unity
Unity de Fuego
Unity do Fogo
Fire Unity
Friendship
Friendship
Friendship
Friendship
Friendship
Friendship de Glace
Eis-Friendship
Friendship de Hielo
Friendship do Gelo
Ice Friendship
Unity Végétal
Pflanzen-Unity
Unity de Planta
Unity das Plantas
Plant Unity
Unity
Unity
Unity
Unity
Unity
Friendship d'Eau
Wasser-Friendship
Friendship Acuático
Friendship da Água
Water Friendship
Ad blocker interference detected!
Wikia is a free-to-use site that makes money from advertising. We have a modified experience for viewers using ad blockers

Wikia is not accessible if you've made further modifications. Remove the custom ad blocker rule(s) and the page will load as expected.